Room definition
Create individual floor plans and rooms in 2D and 3D. Import 2D DXF plans and create 3D rooms within minutes.
Through templates and many configurable installation elements, individual ideas and floor plans can be realized in 2D as well as 3D. Choose from various wall, lighting and room elements and adapt them to your needs.
Parts list
In visual-STORE planning and calculation are combined. Any lists are available and retrievable in seconds. So you always have an exact overview of your planning.
Within the parts list, you can apply various filters and thus call up any component overviews. On the basis of the bill of materials, you can quickly create offers and price information and always have the material list in view.
Construction
The comprehensive design function allows the free creation of individual objects and components. Created objects can be organised in their own catalogues.
You can create complex shapes with the functions Subtract, Merge and Intersection. A bakery, a refrigerated counter or other elements that recur in shop fitting can be designed directly from visual-STORE.
Data pool
Extensive graphical databases of suppliers and manufacturers in the industry are available. These include Tegometall, Lüning and Ladenbau König.
Plan your furnishing concepts. Add 3D furnishing objects to your designs and configure them. The graphical databases include parts, assemblies and finished configurations including all meta information.
Configuration
The unique configuration of shelves as well as hundreds of finished assemblies allow for quick construction of shelves, components and other furnishing objects.
With the shelf configurator you can put together individual shelves. Hundreds of prefabricated assemblies allow you to design shelves or furnishing objects. Create any groups and change their attributes with one click.
Presentation
Create photorealistic images, videos (4K), panoramas or interactive tours. A presentation using VR virtual reality and AR augmented reality is also possible.
You can individually set quality, light, shadow and other parameters and thus create images that achieve the desired effect on the customer. Images can be created in any size, videos with up to 4K resolution and 60 frames per second. Interactive tours, which are created from panoramas, give the customer a perfect insight into the planning.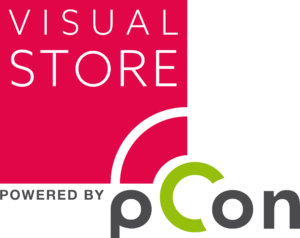 visual-STORE is the all-in-one CAD and visualization system especially for shopfitters and interior designers. Simple operation and access to the extensive data pool make planning fast and efficient.
3D data pool:
For example, the following manufacturers are available in the data pool:
Eden / Je-La Ladenbau
J.D. Geck
J Grabner
König Ladenbau
ProVendo
PS Ladenbausysteme
POS Tuning
Lüning Ladenbau
Shoptec
System 20|40
Tegometall
Vendox
Wanzl Metallwaren
These customers use visual-STORE successfully:
Example planning with visual-STORE: